(26 August 2022) – WTA Annual Meeting was held successfully on August 19, 2022 with delegates from 14 countries/areas, including most of the Asian countries, Australia, Argentina Netherland, and USA.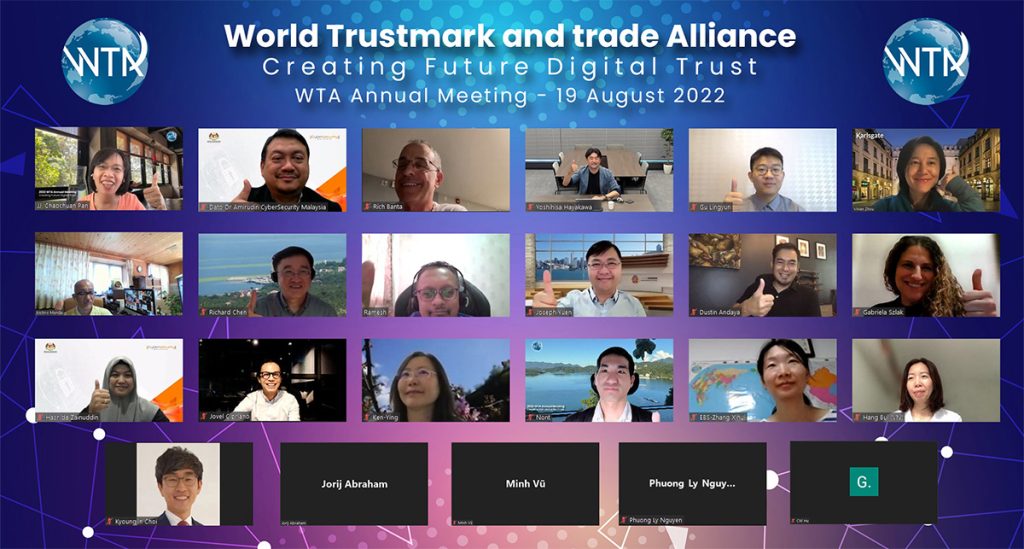 The meeting started from the initiative of Halal Trustmark Platform from CyberSecurity Malaysia which now reviewing by the authorities and raising a lot of attention. This expects to complement the Malaysia Halal Ecosystem.
Online Dispute Resolution (ODR) enforced by trustmark system is another attractive topic sharing by Japan delegate. The APEC list of ODR Providers substantially works as Trustmark for ODR Providers since 2021.This program is extended by the long efforts of CCJ-Net and UNCITRAL ODR Working Group.
The initiative of Cross-Border Trustmark (CBTM) based on the updated Trustmark Operation Guidelines is proposed to serve high risk, new type of e-merchants, e-marketplaces, and cross-border platform operators.
Lastly, the macro system design of data governance based on existing regulations in China, zero trust data architecture developed in Australia and initiative of "CheckMyLink" by the Global Anti-Scam Alliance (GASA) based in EU helping consumers not get scammed are all the other successful cases and spots in the annual meeting.
#WTA #AnnualMeeting #Halal #ODR #CrossBorder #DataGovernance #ZeroTrust #AntiScam