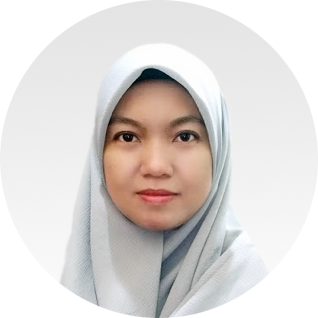 Position: Senior Analyst, Information Security Certification Body Dept.
Organization: CyberSecurity Malaysia
Hasnida Zainuddin had joined CyberSecurity Malaysia for more than 9 years. In Information Security Certification Body Department, she undertake the cyber security certification auditing for ISO/IEC 27001:2013 and ISO 22301:2019 whilst managing other certification schemes named Malaysian Common Criteria Evaluation and Certification (MyCC) and MyTrustSEAL.
She had graduated from University of Malaya, majoring in Information Technology (Management) in 2002. She started her working experience in Human Resources Department under Manpower Planning team and was responsible as the System Administrator for the Human Resources Information System (HRIS) and updating the HR portal for the organisation. After four years, she had gained new knowledge and experience under the Governance, Risk and Compliance team in IT Security company where she learned about the compliance and implementation of International Organization for Standardization. She had maintain the company's certifications and become the ISMS consultant for about four years before joining the current organisation.
Hasnida Zainuddin is a certified Lead Auditor for ISO 27001 and ISO 22301.
About CyberSecurity Malaysia
CyberSecurity Malaysia is the national cyber security specialist agency under the purview of the Ministry of Communications and Multimedia Malaysia (KKMM).
CyberSecurity Malaysia is committed to provide a broad range of cybersecurity innovation-led services, programmes, and initiatives to reduce vulnerability of digital systems, and at the same time strengthen Malaysia's self-reliance in cyberspace.
The agency provides the following specialised cybersecurity services:
- Cyber Security Responsive Services
- Cyber Security Proactive Services
- Outreach and Capacity Building
- Strategic Study and Engagement
- Industry and Research Development
About CyberSecurity Malaysia's Trustmark
CyberSecurity Malaysia was appointed to operate Malaysia Trustmark from 2012 till 2019. Malaysia Trustmark was offered to the private industries particularly to the e-commerce merchants to give assurance in terms of online security, trustworthy merchants and to ensure the customer privacy is protected according to the Malaysia regulation.
Malaysia Trustmark was established by the Malaysian Government to support the Malaysia digital economy and as an initiative to increase the consumer confidence to the online seller.
CyberSecurity Malaysia then had initiated another trust mark named MyTrustSEAL as one of its effort to promote compliance to the privacy regulation and to ensure secure online information transaction.